FINE SINTER technology in the railroads industry.
Bu utilizing the excellent friction-sliding property of composite materials, which is a key feature of powder metal, FINE SINTER manufactures brake lining for bullet train, slider materials for collective rod devices attached to pantograph.
Brake Lining

Disc brake at bullet train is equipped with FINE SINTER disc brake lining. By pressing the disc-shaped metal part, called Disc Rotor, with this lining from both sides of the part, friction occurs and safely stops the train vehicle. Comparing to other materials, our slider has better resistance to friction and heat and stable friction efficient, as well as better thermal conductivity that reduces the heat loads.
Electric rod slider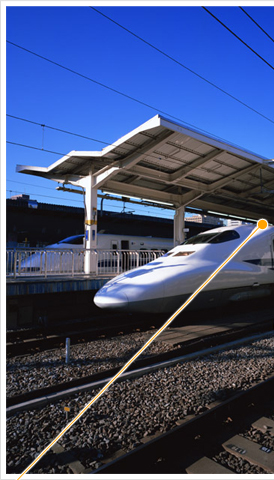 Slider is placed on the roof of bullet train to collect electric current from overhead wires that operate, control, and serve the train. Due to its lower resistibility and contact resistance, our slider reduces the power loss. Also it has high resistance to friction and arc and it is less aggressive to overhead wires.