Entire Process of Powder Metallurgy
Entire Process of Powder Metallurgy
STEP.1
Metal powder
Any metal that can be made into powder can be used as raw material powder.
The main raw materials are iron, copper, etc.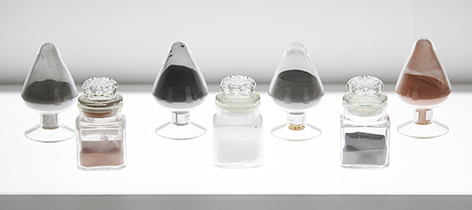 STEP.2
Mixing
Iron powder is mixed with metal powder of different compositions at a specified ratio.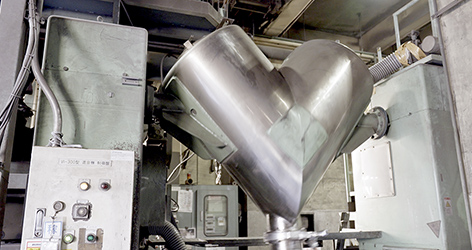 STEP.3
Compacting
The mixed metal powder is compacted in an automatic compaction press using a high-precision die.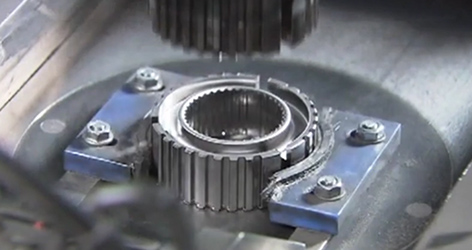 STEP.4
Sintering
Sintering
The green compact is sintered in a gas atmosphere at a temperature below its melting point.
High-temperature sintering
This is a method of sintering at a temperature of 1,200°C or higher to achieve high density and strength.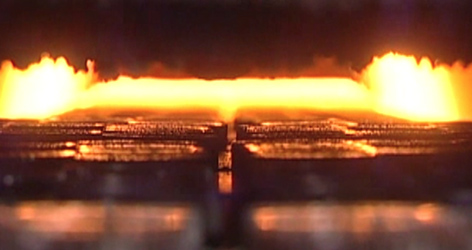 STEP.5
Post-treatment and finishing
Sizing and coining
After the product has been compacted and sintered, it is placed back into the die and pressure is applied to improve dimensional accuracy and increase density.
Machine processing
Machine processing includes drilling and polishing.
Oil impregnation
The pores of the sintered parts are impregnated with lubricant to prevent the internal lubricant from being consumed and to prolong the lubrication effect.
Heat treatment
The metal parts are heated and cooled to achieve the desired hardness and properties.
Surface treatment
Surface treatment is performed to improve the corrosion and wear resistance of products. Steam and plating treatments are available.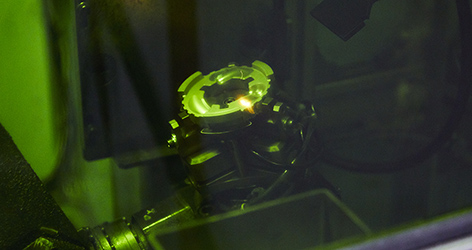 * Laser quenching
STEP.6
Inspection and shipping