Management Focused on Cost of Capital
We aim to maximize our corporate value by focusing on and optimizing the cost of capital.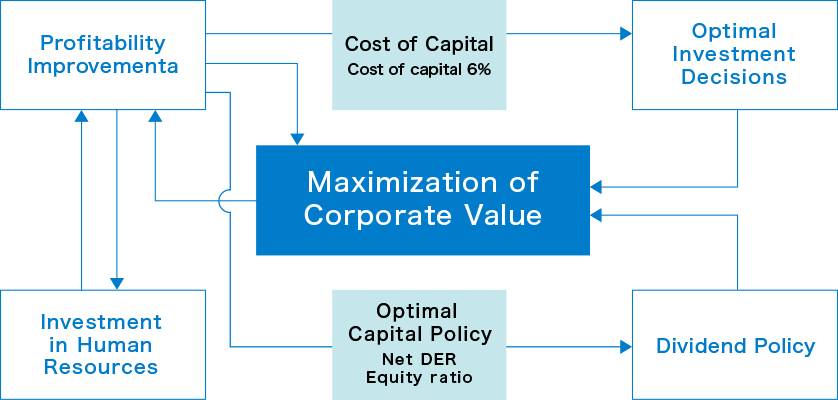 Profitability Improvementa
[ROE > Cost of shareholders' equity]
Improvement of profitability
Improvement of asset turnover
Use of financial leverage
[ROIC > Cost of capital]
Business portfolio verification with awareness on capital profitability
Optimal Investment Decisions
Business investment decisions based on cost of capital (NPV & IRR)
[NPV = Net Present Value]
Net present value method: Decision-making based on whether the present value of future cash flows exceeds the investment amount
[IRR = Internal Rate of Return]
Internal rate of return method: Comparing the rate of return obtained by the investment with the target rate of return
Human Investment
Considering as an upfront investment for the future, human investment is implemented based on the labor distribution ratio and the amount of R&D expenses.
Dividend Policy
Dividend policy is implemented on a continuous and stable basis, taking into consideration consolidated financial results, dividend payout ratio, and free cash flow in a comprehensive manner.
Maintaining Compliance
Fine Sinter has established a global risk management system with various stakeholders.
The management system functions with the aim of preventing any damage or impact by taking prompt and necessary initial actions when there is a possibility of significant impact on our group's management.
Global risk management is based on the current regulations, systems, and standards, and the Secretariat aims to make the current regulations and systems more functional to improve the global risk management.