Parts for Railway Vehicles
Parts for Railway Vehicles
We produce brake linings for the Shinkansen bullet trains and current-collecting contact strips for pantographs by taking advantage of the excellent frictional sliding properties of composite materials that demonstrate the characteristics of powder metallurgy.
Current-Collecting Contact Strip
The current-collecting contact strip is a current-collecting (friction) component installed at the top of the pantograph of an electric train, and is an important component that slides directly against the trolley wire to receive electricity.
The contact strip (product) has excellent abrasion and arc resistance so that the overhead wire will not be damaged and the contact strip will not be worn down even if the contact strip is in contact with the overhead wire at high speed. Copper, iron, and carbon materials are used depending on the conditions of use.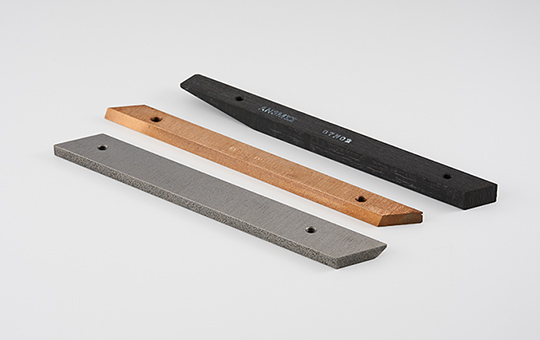 Carbon-based contact strip
Fine Sinter's carbon-based contact strip is manufactured of C/C composite material impregnated with metal. Carbon fiber is used for the material to improve strength, and the carbon-based contact strip itself can be tapped for pantograph attachment and bolted to the pantograph current collector head.
Among carbon-based contact strip products, the only product that can be bolted is manufactured by Fine Sinter.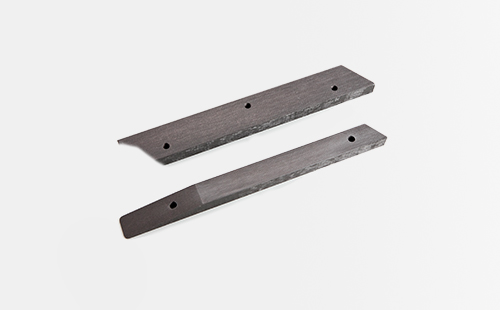 Feature 1

Lightweight
Feature 2

High bending strength and impact value
Feature 3

High arc resistance
Sintered contact strip
The sintered contact strip is a typical composite material product among powder metallurgy products.
We have focused on the product since our foundation (in 1947), and it has been used by the Japanese National Railways since 1951 as a solution to the various defects of conventional contact strips.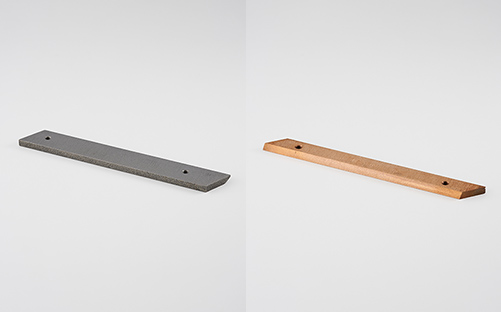 Feature 1

Minimal wear
Feature 2

Low power loss
Feature 3

No danger of overhead wire overheating and breakage
Feature 4

Excellent wear resistance, arc resistance, and lubricity
Feature 5

Excellent performance at high speed
Tests using Evaluation Apparatus
Frictional wear tester for contact strips
The frictional wear tester for contact strips measures frictional wear by simulating sliding of the contact strips for pantograph and trolley wires while energizing them.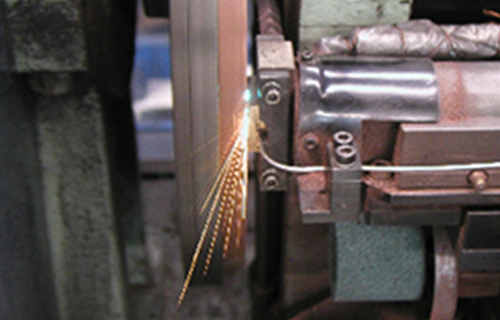 Brake Lining
Disc brake linings manufactured by Fine Sinter are installed on the disc brakes for Shinkansen bullet trains and other trains.
By pressing the linings against the disc-shaped metal called a disc rotor from both sides, friction is generated and the train is brought to a safe stop.
Compared to other materials, this product has higher wear resistance and heat resistance, and the coefficient of friction is stable. With good thermal conductivity, heat load can be reduced.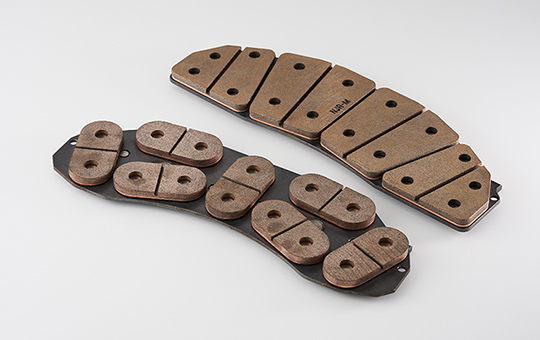 Feature 1

Stable high coefficient of friction
Feature 2

More than three times longer life than materials manufactured by other methods
Feature 3

Wear of the mating material is less than 1/3, and damage to the mating material is also reduced.
Feature 4

Excellent heat resistance
Feature 5

No occurrence of brake fade
Feature 6

Brakes and clutches can be made more compact.
Feature 7

No change in the coefficient of friction under dry and wet conditions of use
Tests using Evaluation Apparatus
Full-size tester for brakes
The full-size tester for brake linings is an evaluation facility that enables testing under the train weight and speed (conditions) equivalent to actual running.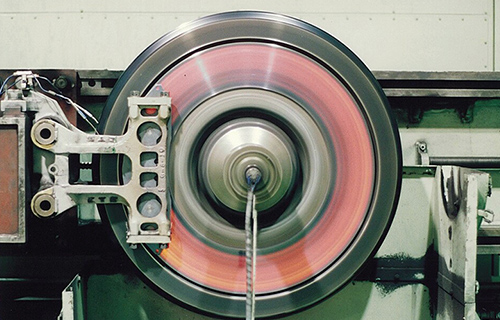 Grounding Brush
The grounding brush is a component of the device that flows electric current from the train body to the rail through the axles and wheels.
The grounding brush is manufactured of sintered copper material, a material that provides excellent wear resistance and low aggressiveness.
Tests using Evaluation Apparatus
Abrasion Tester for Grounding Brushes
The abrasion tester for grounding brushes is an apparatus that allows performance evaluation of grounding equipment, grounding brushes, and current-collecting rings under conditions equivalent to actual running.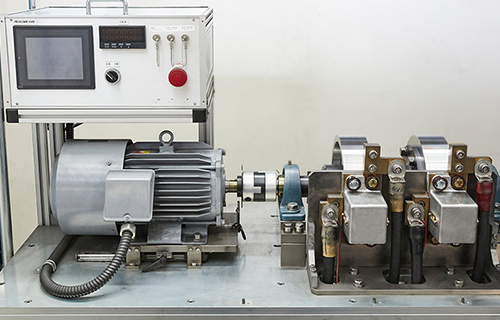 Piston Rod Packing
Steam locomotives are generally reciprocating engines that use the pressure of steam generated in the boiler to move the piston in the cylinder and obtain motive power from that movement.
The steam in the cylinder is kept airtight by piston rod packing manufactured by Fine Sinter.